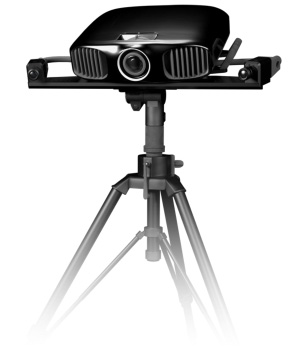 3D scanning allows for quick and precise reconstruction of a 3D object and saving it in an electronic form. The scanned object can be saved as a CAD model, which will have all of the object's dimensions, e.g. length, width, height, volume, size, location, surface area, and many more.
The obtained CAD model enables various editing processes or changes to the given model. The CAD model allows for comparing the parameters of the scanned object with those of a perfect model (reference model). Thanks to 3D scanning, a backup copy of the scanned object or element can be made. 3D scanning also makes it possible to archive 3D objects in an electronic format and to document them.
3D scanning is performed on eviXscan 3D scanners. The eviXscan 3D are optical white light scanners. Their excellent optical parameters, variable measuring range, and high definition (5 Mpx) provide the potential to scan objects of various sizes with high precision (0.01-0.025 mm).
Our offer includes the following 3D scanning-related services:
preparation of the object for 3D scanning;
3D object scanning with optical scanners;
processing of the 3D scanning products for point cloud or triangular network;
saving 3D scanning products to the following formats: .stl / .ply / .asc / .bin / .obj
We also offer the following:
development of full object geometry based on point clouds created in the scanning process (IGES, STEP, SAT, DWG);
development of scanning reports (detailed descriptions, CAD-STL colour comparison maps, cross-sections with marked CAD-STL deviations, etc.);
development of technical documentation for:

elements without it;
prototypical elements;
elements worn during production processes;
art (relief and classic sculptures);
based on submitted flat documentation.
3D scanning is a perfect solution for the following industries:
mechanics;
automotive;
foundry;
jewellery;
prosthetics;
industrial modelling;
sculpting;
numismatics;
model making
and many others.
Examples of 3D scanning application:
reconstructing CAD geometry of used machinery parts and moulds;
reconstructing geometry, redesign and creating elements based on original parts;
creating moulds based on the target object;
mould wear control by comparison with the CAD model;
measuring and mapping of small jewellery elements;
mapping of manually engraved elements;
tool wear control;
prosthetics;
reconstructing orthopaedic elements such as implants or endoprostheses;
thread scanning;
cogwheel wear control;
measuring flexible/welded materials and comparison with the CAD model;
comparing successive production elements with an ideal (scanned) model;
cast-iron quality control;
measuring pressed elements;
scaling sculptures made in size convenient to the sculptor to desired dimensions and creating on CNC machine or 3D printer;
embedding soft manual elements in hard materials;
creating casting templates based on handmade clay relief sculpture;
developing virtual documentation for museum /archaeological objects;
3D model support for visualisation designers;
verifying the shape and dimensions of glass elements;
mapping plaster stucco to create moulds;
measuring the object's volume and surface area;
detail geometry reconstruction and preparation for 3D printing
and many more.
---
Scanning specification:
Resolution
5 Mpx (max. 10 Mpx)
Points density per mm2
(for different ranges)
max. 73 / min. 36
Accuracy
according to DE VDI/VDE2634 part 2 standart: 0,01-0,025 mm
Measuring ranges
max. (430 x 330 mm),
min. (300 x 230 mm),
7 measuring ranges
Export formats
.stl / .ply / .asc / .bin / .obj
Technology
optical scanner, white light